I've been busy with holiday and family stuff, but it did feel nice to get back into the gym. Started with my 531 deadlifting…in which I felt weak. No surprise, given my sedentary activity level and diet for the past week.
Class was pretty simple. Since it's kind of a weird week with the holidays and attendance, we played Winners and Losers. Pair up, submission only. Winners go with other winners, losers go with other losers. There were tales of people going for 25-45 minutes straight in other classes this week!
I started off with Seth. Slowly, because there's no need to rush in a submission only match that could go for a while. He pulled guard, and it took a bit, but I managed to pass eventually. Established side control, and started probing with a couple of attacked. I worked the five positions on him a bit, trying to get his arms to move into a bad place, but his defense was pretty good. I ended up switching to mount. I ended up jacking his arms up, and then switching to an armlock. He defended, but couldn't escape, and I couldn't break his defense, despite the technique that Damian showed me a couple of weeks ago. I gave up on it and switched back to mount, where I secured a cross choke. He rolled me, but I held it and became a Winner.
I grabbed a quick drink. Damian greeted me with "Good job beating Seth. Now you get Policeman Tim." Uh oh. Tim may be a white belt…but he still weighs 235. We start, and the only thing running through my mind is to keep his weight off of me.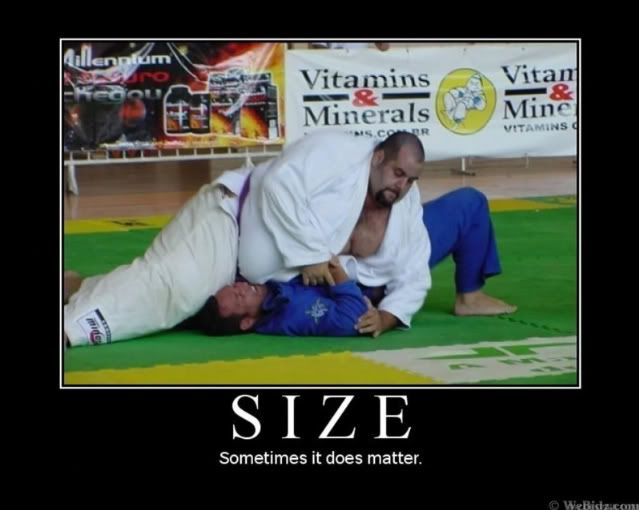 I pull butterfly guard, and start breaking grips. Things are going okay, and I've got his sleeves, so I go to try to get to spider guard….and then he rips his arms away while I'm transitioning. He ends up laying to top of me, and I've got one butterfly hook. No es bueno. I'm trying to escape my up enough to get back to guard, and he's messing around trying to americana me…when it occurs to me that if I bump hard, I can just switch to his back. So I do! I'm attempting to channel Marcelo "The Human Backpack" Garcia, staying on tight, working for his collar and the choke. Tim's defending, and he's got a grip like a gorilla, so I'm not getting anywhere. I start to switch to the Rousimar armlock, but Tim ends up spinning around and I end up in half guard again. He starts with the americana attack again, and it's not really working…until he pins the back of my hand to the mat and it turns into a wrist lock. Damian was watching and pointed out that Tim posted up with one leg to get the leverage to attack…and I could have easily switched to a butterfly hook and swept him.
Back to Seth. Another good back and forth with him, which included a failed wing choke and armlock on my parts.
Last round of the night was with Powerlifter Matt. We were both pretty tired, so it was a little slow, but still a good battle. I ended up using the same bump to the back technique with him that worked on Tim. And I even got the choke, and thought I had him, but it wasn't quite enough. Tried to switch to the mount, but he reversed, passed and then eventually kimura'd me.